In today's industry, waste is a big issue. Increasingly more companies are looking for more sustainable solutions. In plants, longevity plays an important role and reducing waste has therefore become one of the main goals for breeders. Also for Danish breeder Queen Genetics. They have more than 50 years of breeding experience within kalanchoes, that always need to comply with their breeding goals, namely: beauty, quality, longevity, and consumer satisfaction. Over the last years, they have been developing new crops and also for these crops the same goals are applied, so also for their new crop, pot roses, named Queen Romantic Roses.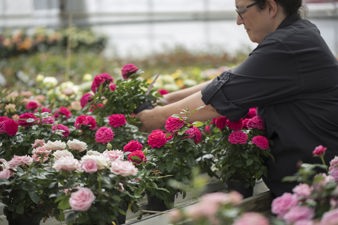 Queen Romantic Roses
Queen Romantic Roses is the latest crop added to the assortment of Queen Genetics. The pot roses in the series can only become part of the series only under certain conditions. "They need to be the most beautiful, they need to have the best mildew resistance, and finally, they need to have unsurpassed longevity when they leave the nurseries where they are produced", explains Merete Pedersen, the rose breeder of Queen Genetics. In order to reach these goals, plants go through a comprehensive selection, which consists of three steps. First she exposes the plants to fungal infection and only the varieties that are not infected will pass the test. Then, she selects them on beauty and growth habit, colour, size, shape of the flower, and strength of the petals. Finally, they need to pass the stress test. "Plants are kept under living room conditions and only watered with tap water once per week. Only plants that can cope with three drought stress cycles will pass this test."

Queen® Romantic RosesTM 
Sustainability
This final test, the drought stress test, will ensure reduced waste in stores and longer lives at the home of the end consumer, resulting in a more sustainable product. "Due to improved longevity, less water is required, not only required in the store and at the consumer's home, but also in production. Therefore, Queen Romantic Roses are therefore very suitable for growing in the warmer climates around the world", she says. And as waste is a big issue in today's industry, Queen Genetics is confident that growers will experience customers and retailers coming back for more of their roses.

Queen® Romantic RosesTM
Focus on end consumer
For half a century, Queen Genetics breeds Kalanchoes and the focus has always been on the end consumer. "By focusing on the end consumer, we create value throughout the value chain, from grower, to the point of sales, to be enjoyed by the end consumer," says Kai Lønne Nielsen, R&D Manager at Queen Genetics.
Over the years, they started to breed more crops, but they never lost sight on their breeding strategy that meets their philosophy - "beautiful, long-lasting plants that enables the consumer to create a sustainable, peaceful, and romantic atmosphere in their active lives."
IPM Essen 2020
Queen Romantic Roses will be exhibited at stand H17 in Hall 6 during IPM in Essen from January 28th - 31st.